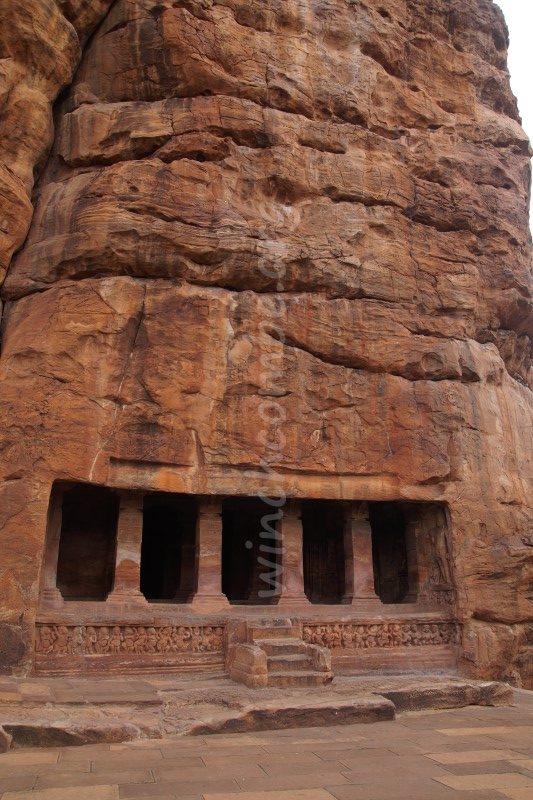 A few things drew us to visiting Badami: its rock caves – something we enjoyed in Ajanta and Ellora; its closeness to Hampi – which we loved last trip; its nearby temples at Pattadkal; it was a halfway stopping point between Mysore and Mumbai.
We'd had a great overnight train journey, sharing our 6 berth area of the train with two chaps who joined at Bangalore (two hours after Mysore) and stayed with us all the way. Whilst their thick accents were at times very difficult to understand they were fascinated by our ways of life in England in comparison to theirs. They started off saying how wealthy our country is, just viewed from TV/films, but once we'd told them how our life is they changed their minds, surprised that our kids are unlikely to own any land or a home, and the student debts they'll carry for most of their lives. I think we all agreed that India's focus on family before than money was for the better. I love that there is no quibble in India if a relative needs your help you just do it, putting up with hardships for the benefit of others. I'm not confident the majority of the UK is the same, I see this around me, instead of caring for elders it's easier to spend money than time, it's easier to put them in a home than put up with caring for them in their/your house. It's easier to blame a busy life on not having the time to call the lonely parent. Makes me quite sad.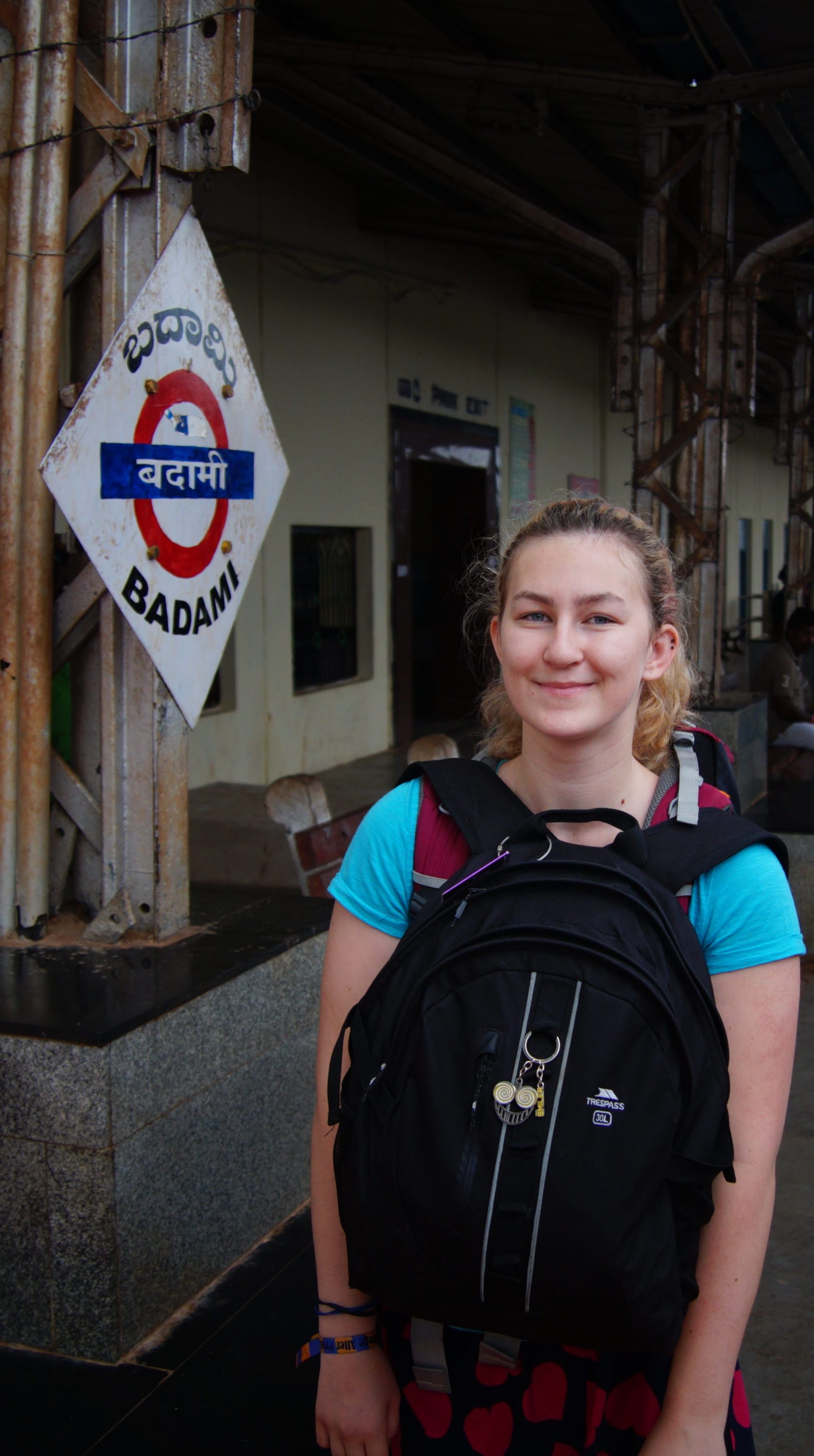 Anyway, on to Badami, or Bad Amy as we like to call it.
Arriving at our hotel, the Heritage Resort – its lovely – at 8am and they check us into our room and I fall asleep for two hours, catching up on the intermittent sleep on the train. A little food and we catch a ride into town.
Badami's quite different from a transport point-of-view as there's no empty tuktuks plying the road between us and the town. They're all much bigger ones and everyone shares, there's no personal hiring arrangements here. Our hotel guy crosses the road with us, stops a tuktuk and tells him to take us to town for Rs30 for all. The price comes back as Rs80 (£1) to drop the other passengers off in town and take us on another 1km to the cave entrance. Seems, fair enough, we'll do it.
The UNESCO World Heritage Site caves cost Rs200 (£2.50) each to get in, 7 times that of a local, but still no money to us. Although the irony is that many locals who visit here drive here from Bangalore in their Audis, they've clearly got more money than us.
Rather than tell you all about the caves I'll use pictures, but as an overview, there's 4 temples built high into the rock, dating back possibly to the 6th century, some caves have only been discovered in the last couple of years.
Jane and Amy enjoying visiting the caves: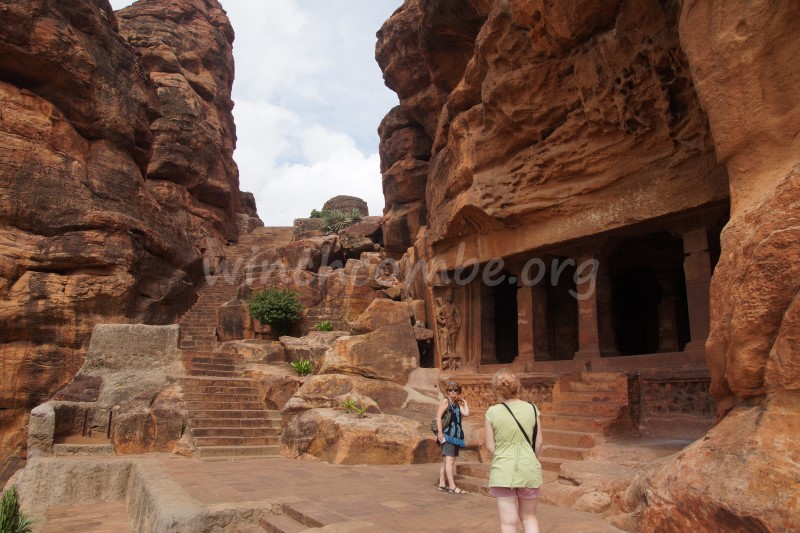 The view across from the caves, more stuff to visit although we ran out of time: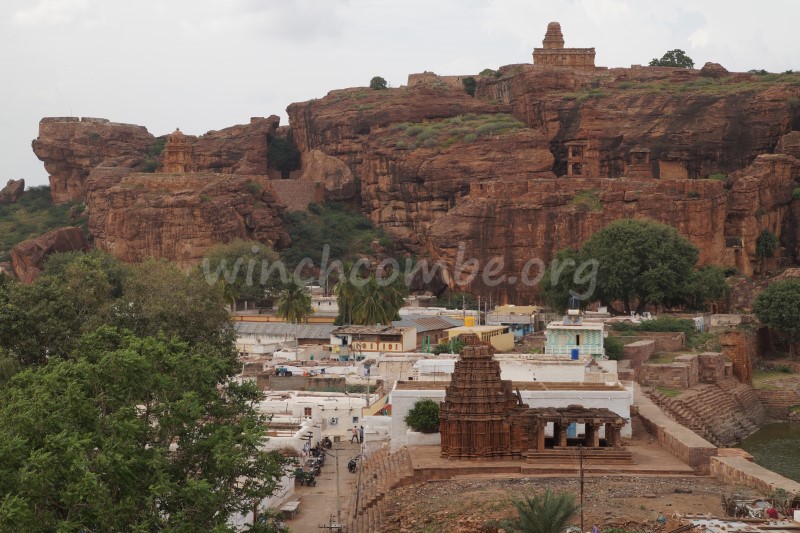 Jane and Amy, a respite from 'selfies' with the locals, to get hounded by photo requests from me 😀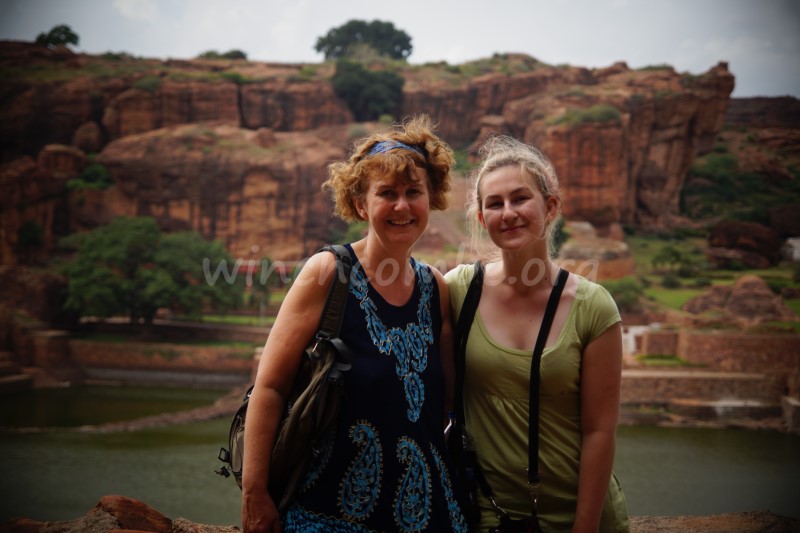 Down at the lake for a drink break, watching the women wash and dry their saris: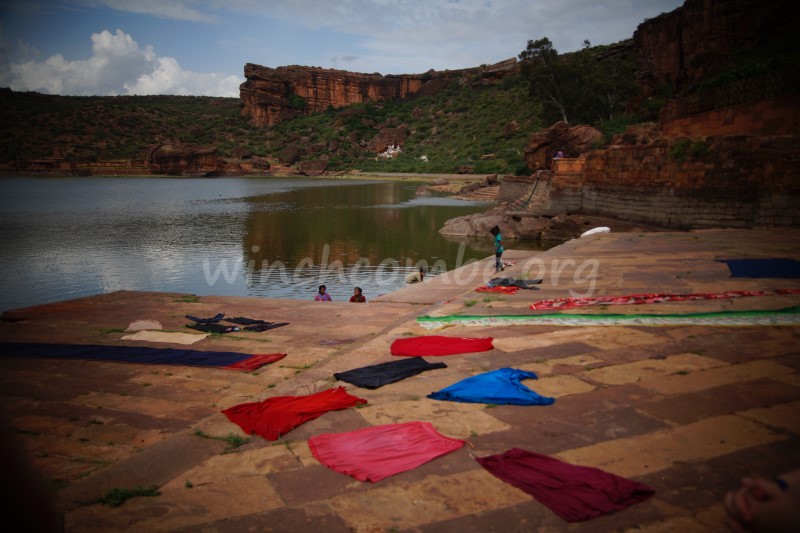 A stroll from the caves to town, through the market with its vibrant colours: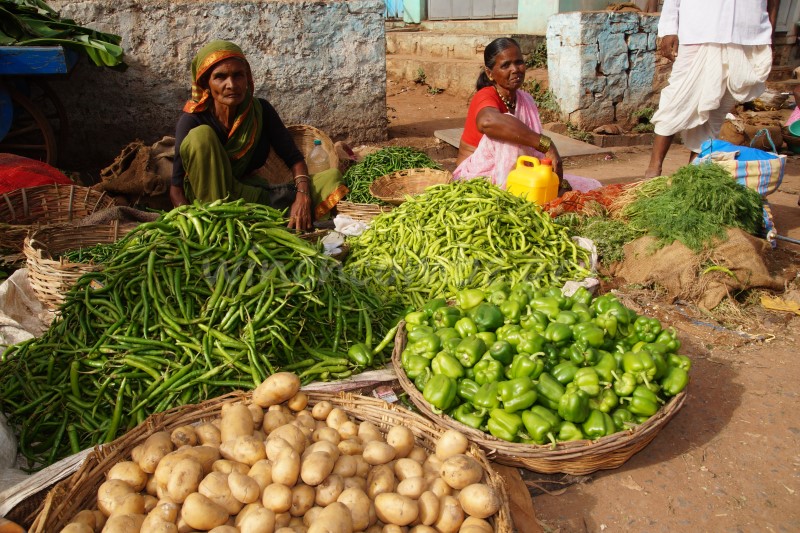 This kid saw my camera and asked me to take a photo of her, that's handy, thanks: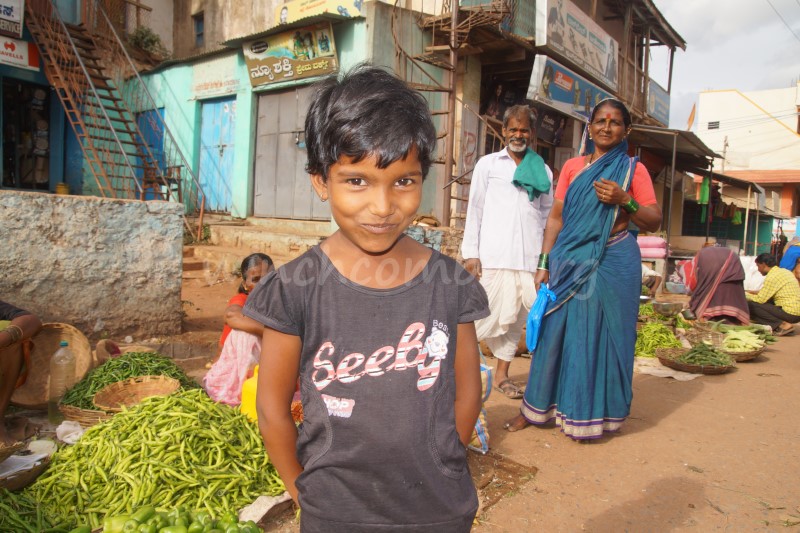 Badami caves turned out to be the place with the most photo requests so far on the trip, though Mumbai was soon to change that: