It's my fifth trip to India, Jane's six, Amy's third, and finally we get to actually see Mumbai. Although we departed from here in 2011's Monsoon Meandering trip, and we arrived here four weeks ago, we've never visited Mumbai.
I've been put off by the stories, the hotel costs, but I did want to see the bedlam and how modern it is. Immediately it felt like Mumbai was in a different country to Badami we'd just come from.
After a couple of hours rest in the hotel we walked to Vile Parle to get a train in – yes I know, another train after the morning's chaos. It was a lot simpler this time, no rush-hour, no backpacks, getting off at the train's terminus.
Now lunch time and having skipped breakfast it was food time. First choice was obvious, a Frankie roll, Mumbai's famous fast food.
We stopped at the station's Frankie stall – that's it in the video – for some delicious food. The first of many I hoped, soon regretting the lack of days we had in Mumbai.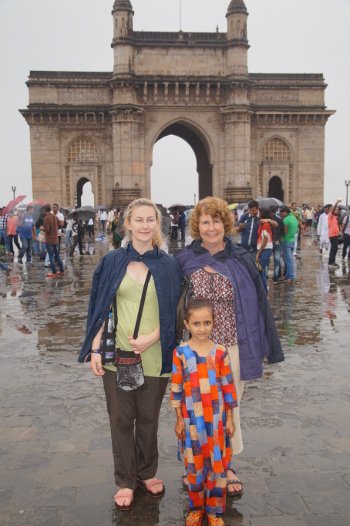 It was time to stroll on slowly through the parks and quiet wide roads to see the a few places. First up was the Gateway to India, from where the last British soldiers exited in 1948.
Having just rained it was like an ice rick for my flip-flops and avoiding tumbles became my occupation. It soon became the number one place for selfie requests, mainly of Amy of course. It was relentless so we didn't spend long here and headed off to see the hotel nearby.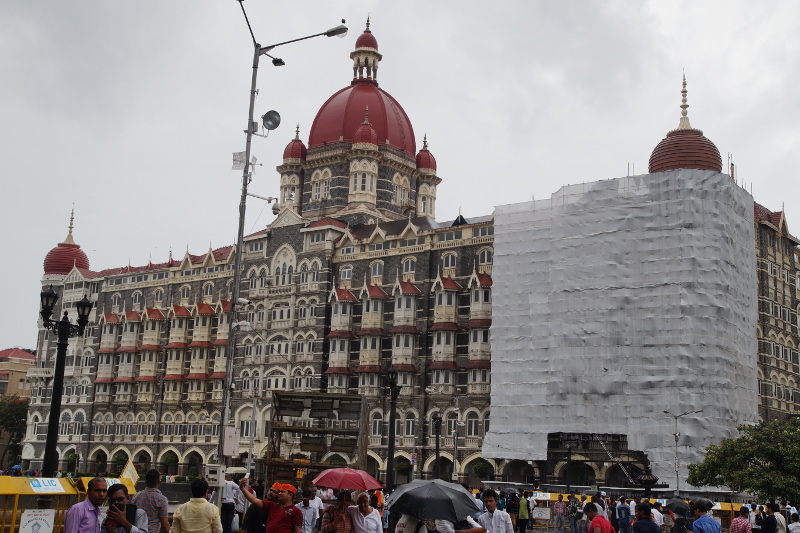 The Taj Mahal Hotel is a beautiful looking hotel in a prime position in Mumbai. I remember watching live footage of it during the November 2008 terror attacks, along with Leopold's Cafe and Chhatrapati Shivaji Terminus – all of which we'd see today or tomorrow. A friend Jonathan who'd we'd met in 2009 in Ranthambhore comes here regularly so I was interested to see what the draw is. As lovely as it is, it's not for us, or rather our budget.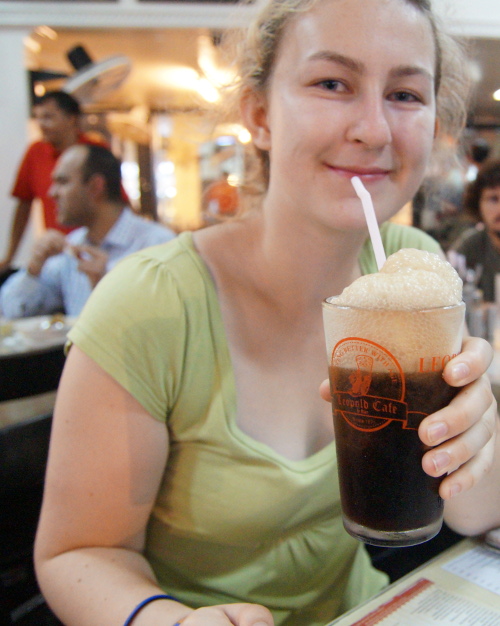 Some shopping followed as we headed to the Leopold Cafe – another focus of the 2008 attacks – for a cheeky beer for me, a tea for Jane and a coke float which made Amy happy.
The place was bustling and had a really nice vibe to it. I bought two of the glasses – they're dishwasher safe, but unfortunately the writing isn't.
We headed home, first to Vile Parle and got some wonderful food nearby at Shiv Sagar Veg Restaurant, this time opting for another Mumbai classic, Pav Bhaji, which I really enjoyed…once I'd looked around to see how you're meant to eat it.