For those who've travelled on UK railways it's hard to comprehend just how massive, busy and booked up trains in India get. Not only do trains get booked up way in advance but they also have people who book when all seats are sold out and they join a Wait List, hoping that enough cancellations will happen so that the purchaser can travel, and these waitlists have dozens of people on them.
The posher classes are often fully booked in advance, and this on trains with often 21 carriages, taking 60 odd people per carriage, which can run for 3 solid days. You can even book 120 days in advance of the date of travel, something I've been making full use of as I plan our journey around.
Booking is easy these days: research trains on erail.in, create an IRCTC account on irctc.co.in, book a train, pay using an international debit/credit card, print a ticket, eventually get on the train, show ticket to the inspector et voila.
Now there's an app you can use, showing all your previous bookings and cutting out the need to print a ticket at all.
But it's gone one stage further now…
You can pre-purchase your food.
No longer must you get on a train and hope there's something being sold on the train you'll feel happy eating, no, now you can pre-order for delivery to your seat when the train arrives at certain stations. There's a great choice too, from Indian food (Southern and Northern), to Burgers, to Chicken, to Pizza.
I just couldn't resist doing this and ordered a full meal of Indian dishes for three to be delivered to my seat where I'll pay cash on delivery. It came to less than a tenner.
First you enter your PNR reservation number, from this they know your train, your carriage, your seat number and pretty much exactly where on the platform the door to your carriage will line up.
Then pick the station you want the food delivered at and which vendor: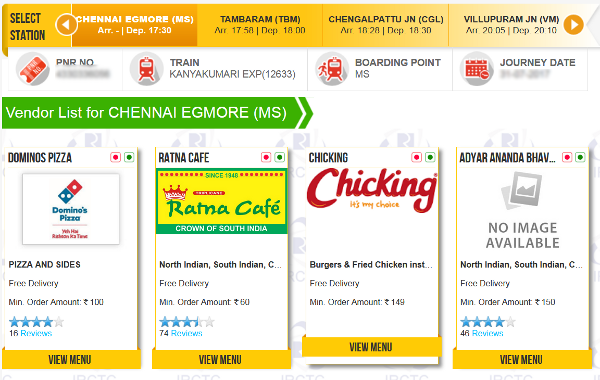 Then pick what you want – it's all pretty cheap: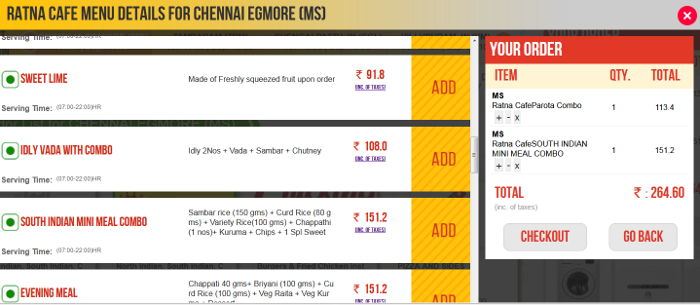 Finish off the order, board your train, wait for your food to be delivered, pay the delivery guy, and eat.